Adelphi Offers Top-Rate Opportunities for Business Students
With personalized attention, our students are transformed into business leaders.
The Willumstad School of Business is accredited by AACSB International, a recognition received by less than 5% of schools offering business degrees worldwide. 
We offer personal attention from expert faculty members who foster the knowledge, integrity and originality to drive enterprise in the 21st century. 
Our classes are small and offer state-of-the-art instruction—and we have a richly diverse student body.
Our curriculum is cutting-edge—designed and constantly innovated by leaders in the business world
Our students gain business experience and exposure through corporate internships and events with distinguished executives, government leaders and scholars.
Our faculty members are first-rate scholars, experienced entrepreneurs and executives with a passion for teaching. They are innovators and top researchers, and they're highly regarded for their expertise in key business disciplines.
We offer an array of undergraduate programs in accounting, economics, finance, management and marketing. We also offer highly competitive full-time, part-time and accelerated graduate programs.
Our students and faculty members bring broad educational backgrounds, career experiences and interests. 
We're strategically located near the financial capital of the world, New York City. We combine the dynamic of a large university with the familiarity of a small community—offering the best of both.
Retention Rates for the Willumstad School of Business
Undergraduate Retention and Graduation Rates
for First-time, Full-time Freshmen

From first year to second year = 82.2 percent
Four-year Graduation Rate = 61.7 percent
Six-year Graduation Rate = 63.5 percent

Graduation Rates for Full-time Transfer Students

Two-year Graduation Rate = 39.7 percent
Four-year Graduation Rate = 81.0 percent

Graduation Rate for Full-time M.B.A. Students

Two-year Graduation Rate = 79.2 percent
Placement of WILLUMSTAD School of Business Graduates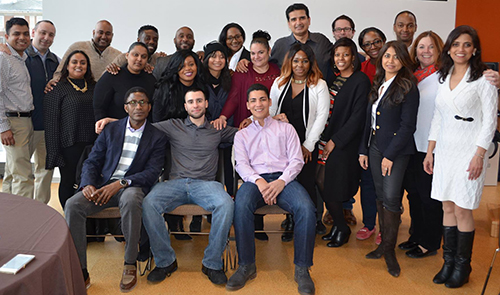 Recent graduates of the Willumstad School of Business have been placed in the following organizations:
AIG
Bank of America
Barclays Bank
Canon
Catholic Health Services of Long Island
Citibank
Deloitte
Estee Lauder
Ernst & Young
Flushing Bank
Grant Thornton

Grassi & Co.
Henry Schein
IBM
JP Morgan Chase
KPMG
Merrill Lynch
Northwell Health
NYU Winthrop Hospital
PSE&G
PricewaterhouseCoopers
Verizon
competitive, Paid Internships for Business StudentS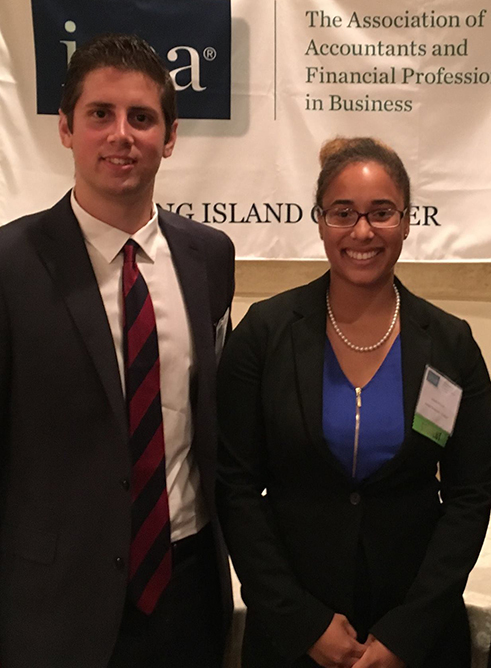 Percentage of students graduating having completed at least one internship = 76 
Percentage of accounting students graduating having completed at least one internship = 76
 
Percentage of internships that pay students a stipend = 91
Percentage of internships that students obtained academic credit for = 9
Percentage of internships where students were unpaid = Zero
 
Number of employers where students interned = 172
Most Popular Employers for Internships 
Merrill Lynch
Penn Mutual
TD Bank
State Farm Insurance
Village of Garden City
PricewaterhouseCoopers
1-800Flowers.com
GEICO

Northwell Health
Ernst & Young
New York Islanders
BDO
KPMG
Grant Thornton
UPS
National Student Recognition
Each year, Willumstad School of Business students score in the top 10% nationally on the ETS Major Field Tests for undergraduate and graduate degrees in business. We are proud to recognize these students' achievements and congratulate them on demonstrating a high level of mastery of their chosen fields of study.
National Top 10% Scores on the ETS Major Field Test for the Bachelor's Degree in Business
Spring 2017
Bryant Asprilla
Rozmari Chakarova
Steven Copping
Christopher Eliades
Raphaela Stankovait
Anthony Curatolo
Nazariy Hrynkiw

Fall 2016
Adam Brower
Michelle Gagnon
Justin Macari
Victoria Sedlak

Spring 2016
Titilope Alawode
George Charalambous
Oleksandra Vlasova
Sebastian Zapata
Uladzislau Litvinchuk
Michael Morelli
Lindsay Silvestri
Justin Maurici
Vanessa Harrison

Fall 2015
He Gong
Hongyang Li
Matthew Davis

Summer 2015
Jiangyu Xiao
Shuaicheng Ye

Spring 2015
Sarah Roth
Alyssa Heese
Parita Shah

Spring 2014
Khadija Mudassar
Arsan Yakubov

Summer 2013
Gregory Hamilton-Sang Clarke

Spring 2013
Elaine Grice
National top 10% scores on the ETS Major Field Test for the Master of Business Administration (M.B.A.)
Spring 2017
Sai Wang Ho
Dr. Carmichael Angeles

Spring 2016
Angela Friedman
Flavien Freedman

Fall 2014
Steven Pelaez
Christopher Gavarian

Summer 2014
Danielle Kozlowski
Seema Desai

Spring 2014
Robert Tudisco
Colton Wands

Fall 2013
Dan Wang

Summer 2013
Julianne Carnevale

Spring 2013
Dr. Jeffrey Wolf